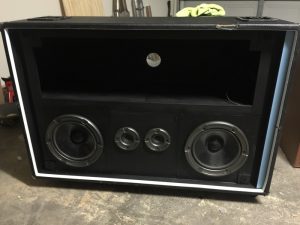 A couple months ago I moved into a new place. I began looking for a credenza for my living room. I wanted something that would hold all of the cable boxes, stereo, etc. In my previous house I had shelves on either side of my TV and the cables routed in the wall. It was a complicated set up. I wanted something more compact this time.
I looked at several mid-century style credenzas at some shops here in Atlanta. They all ran around $1500 which isn't bad for a real-wood handmade piece. After looking at a bunch of these I realized I could build one myself.
While trying to decide what kind of wood I wanted t use, it dawned on me that the 45 year old bass amp my stepdad gave me could actually work for this. I originally was going to put it in my office and use it as a knick-nack shelf.
After inspecting the speaker cabinet, I realized with a little wood working I could not only fit all the stupid cables boxes and crap in this thing but I could also build speakers into it.
So without further ado, here it is, more or less start to finish.