Blog
Show Flyer Guitar Project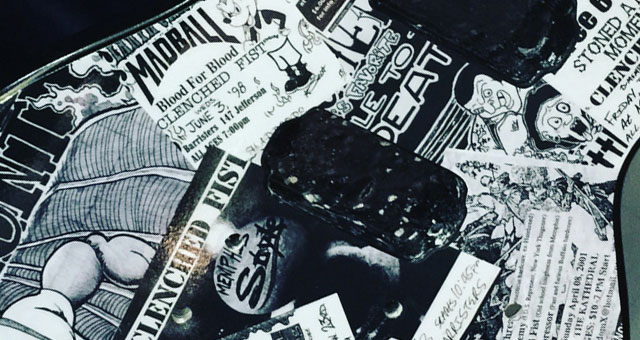 I picked this guitar up for roughly $60 about 10 years ago to play while I painted my very first guitar. Over many trials and tribulations with the painting process it was finally time to do something with this one. I really wanted to do something quick and easy. Most of my other guitar projects are the exact opposite of quick and easy.
The idea here was to commemorate the hundreds of shows my band Clenched Fist has played over the last 20 years. I initially thought about wheat pasting the flyers right onto the guitar, a very punk way to do it. But I knew that would make achieving glass-smooth finish with the clear coat pretty difficult.
The Process
I decided to scan the flyers into Photoshop, put together a collage I liked, then print out the whole thing on regular paper and wheat paste that to the guitar. The wheat paste ended up being too weak to stay on the guitar. I decided to try brushing Elmer's glue on the back of my paper. That worked at first.
The problem was that the water in the glue darkened the paper and made it bubble up in certain spots. I forged ahead anyway and laid down several coats of Spraymax 2K urethane-based clear coat.
When I started wet sanding the clear coat a couple weeks later the bubbles in the paper made things extremely difficult. I ended up sanding through the clear coat in those places and even all the way through the paper in a couple spots.
Over the next several months I tried more clear coating and several tricks to get all these issues worked out. One night recently I got really pissed off about my progress and took my knife to the finish and ripped it all off.
Time to to start over.
Being that I spent so much time on this guitar, which was supposed to be quick and easy, I started right away with beginning again. After ripping the finish off, I sanded the whole guitar again. I found a vinyl decal company called Vinyl Disorder who printed up large vinyl decals of my flyers, one for the front, one for the back. This was a much better solution. I wish I figured that out sooner.
The decals went on easy. I trimmed both sides to fit using several X-acto blades. I could have stopped there but I wanted a real finish that would seal these decals in permanently. Spraymax 2K had given me so many problems before (including one I'll write about soon) that I wanted something else. This time I used nitrocellulose lacquer in spray can form that Stewart MacDonald sells. This is the same finish Gibson and other major guitar companies use on their guitars.
This new stuff laid down beautifully. Nice and smooth, very very little orange peel. I have a few more coats to put on then I'll finish up with wet sanding and buffing. I'll be updating this post when everything is all done and ready.